ROC Mondriaan's Mission
Teaching at the ROC Mondriaan, an inner city school in The Netherlands, has been an eye-opening experience for me. With a mission is to be a school in touch with society, the ROC Mondriaan manages quite a challenging student population. A wide variety of problems and personal situations prevent our kids from showing their best. We strongly believe that we have the best students. Every day, our 40-member staff make it their mission to provide the best education possible for our 470 students, aged 16 and above. Because of a high drop out rate, and low motivation amongst other reasons, our students hold a weak position on the employment market. We discovered it was a must to equip them with enough knowledge and skills, such as critical thinking abilities and social skills, to succeed in further studies and the workforce.
Our Classroom Design and Office 365
In our classrooms, technology is an integral part of facilitating learning. Students and staff have been using Office 365 for a few years now. Microsoft's OneNote is a very important tool for us. As a Microsoft School, our MIE Experts and teachers have used OneNote to distribute our entire curriculum. Many of our teachers don't use text books anymore.
However, it was hard to teach efficiently since most of our initial minutes of the lesson were wasted logging into a shared workstation that was connected to the smartboard. So we were not able to move around as much as we would like to—for there was only that one computer on which we could work from. This setup was not a very engaging and agile classroom environment to say the least.
Creating a Modern Workplace for Teachers with ScreenBeam
Fortunately, in the summer of 2017, our staff each received a personal pen-enabled device–the HP Pro X2. Almost simultaneously, there was the implementation of ScreenBeam wireless display receivers in our classrooms. All this was part of ROC Mondriaan's view of the modern workplace for educators. Our staff was very enthusiastic, as no tech skills were needed for the ScreenBeam Miracast innovation. By tapping the simple Windows + K shortcut keys on the computer, there was instant connection to the projector.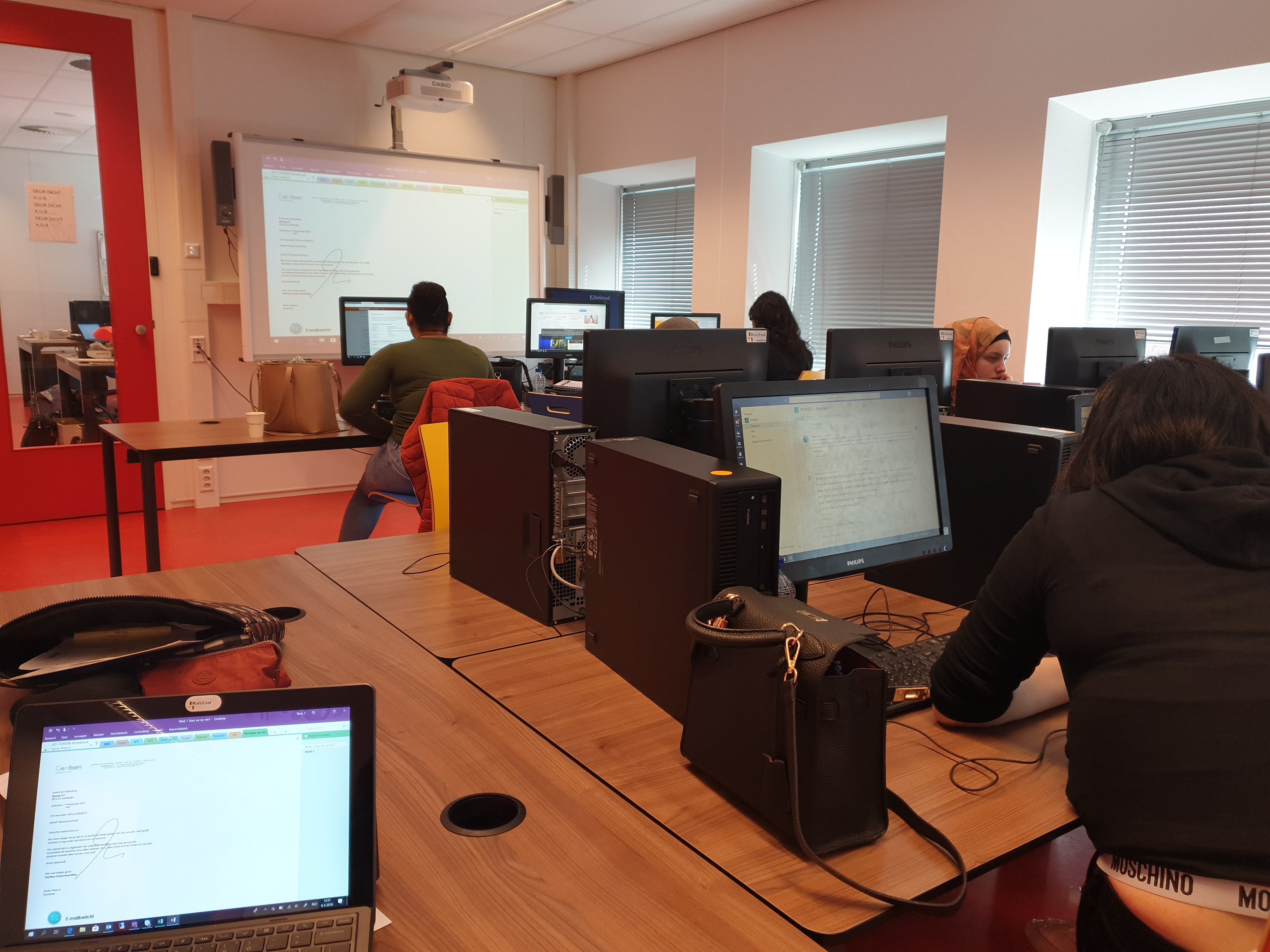 ScreenBeam makes it possible to start class right away and saves instructional time. No more logging in and waiting for a connection before teaching a lesson. Education as we knew it, would change forever. A few teachers who are using ScreenBeam shared,
"Connecting my device to ScreenBeam is so effortless and quick!"
"I love the fact that I am not bound to one place in the classroom now."
"ScreenBeam increases the quality in education, innovation, and new possibilities."
ScreenBeam Wireless Display and Office 365 Are Better Together
Wireless teaching has become very normal now. It enables us to walk around while teaching. We see more engaged students, and it is easier to give feedback to students. By projecting students' OneNote assignments with ScreenBeam—whether it is an assignment done very well, or a common mistake made by many, my students love seeing their own work on a big screen. This keeps them fascinated and involved. Another educational tool that we use to hand out assignments and communicate more efficiently is Microsoft Teams. When I teach a lesson using Microsoft Teams and ScreenBeam, I am right between my students, as opposed to standing in front of the classroom and having to turn my back towards students. I am also a huge fan of pairing Microsoft Whiteboard with ScreenBeam. I love sketching and sharing digital notes while explaining a concept to my students.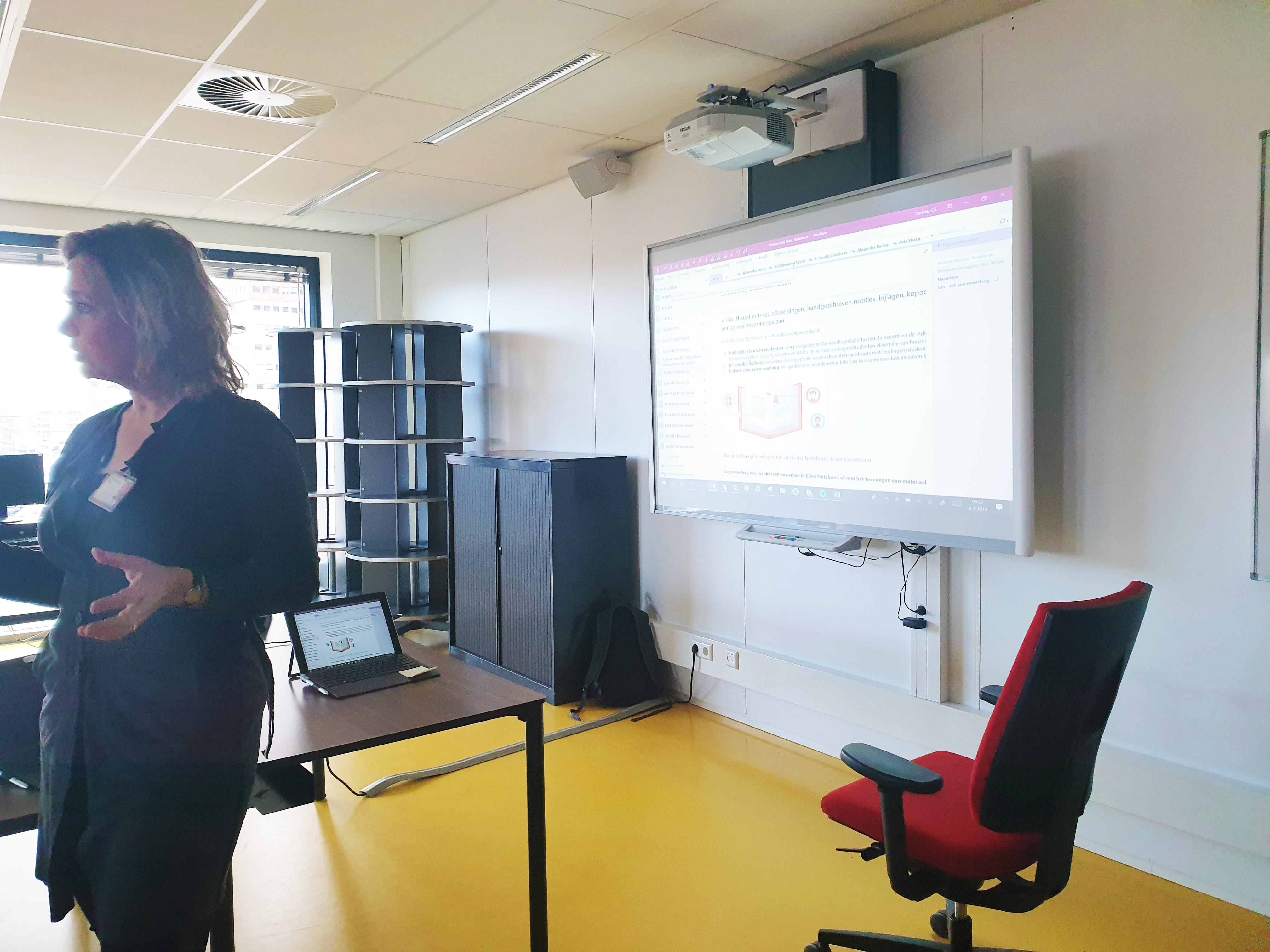 ScreenBeam Beyond the Classroom Walls
Apart from teaching, meetings have become more efficient. There is no more paperwork to manage. Everything is wirelessly projected on the screen, and all information is up to date. We work more productively now because of ScreenBeam.
To learn more about ScreenBeam or to request a ScreenBeam trial, click here.