As an education technology consultant and trainer, I have been training teachers for more than 10 years on how to efficiently integrate digital tools into their classroom. Initially, teachers were the primary users of various edtech tools such as interactive whiteboards. Today, we have now moved onto student-centered edtech tools that increase engagement and collaboration.
The Challenge of Sharing Group Projects On the Display
In the past, when I led professional development trainings that highlight the importance of creativity, collaboration, and peer learning, I frequently faced a challenge. It was hard for me to quickly share and show group projects because I had to move devices around. I sifted through my bag of cords to find the right cable or adapter for each computer. Having to spend time plugging and unplugging each teacher computer to a projector cable not only delayed the group presentations, but this process also disrupted the flow of conversations during my training sessions.
Flip Professional Development Trainings with ScreenBeam
Fortunately, Vincent Benard, a fellow ScreenBeam Expert, introduced me to ScreenBeam—a wireless display receiver that does not require apps or Wi-Fi on Android and Windows 8.1/10 devices. It also supports native screen mirroring on MacOS and iOS. ScreenBeam is a game changer! Instead of being tied to projector cables, ScreenBeam enables me to freely walk around the room as I show on the projector how to integrate new edtech apps into lessons. Whenever I facilitate a workshop with ScreenBeam, I love being able to instantly help teachers out. Teachers immediately notice how ScreenBeam transforms classrooms from a teacher-oriented environment to a student-centered learning environment. Plus, sharing group projects on the display is a lot quicker now. With ScreenBeam, my workshops are a lot more interactive and collaborative. I always carry a ScreenBeam in my briefcase because it has become an essential part of my training toolkit.
Walking Digital Whiteboard with ScreenBeam and Windows 10
I often run workshops in low-tech schools. For schools that are looking for new edtech tools that increase student engagement but have a tight budget, ScreenBeam wireless display is a perfect way for teachers and students to get an interactive whiteboard-like experience. How does this happen? With a Windows 10 device, OneNote, and ScreenBeam. Combining these three tools enables teachers to annotate on a worksheet or picture and wirelessly share the annotations on the projector. This sparks richer class discussions and helps students retain key concepts better.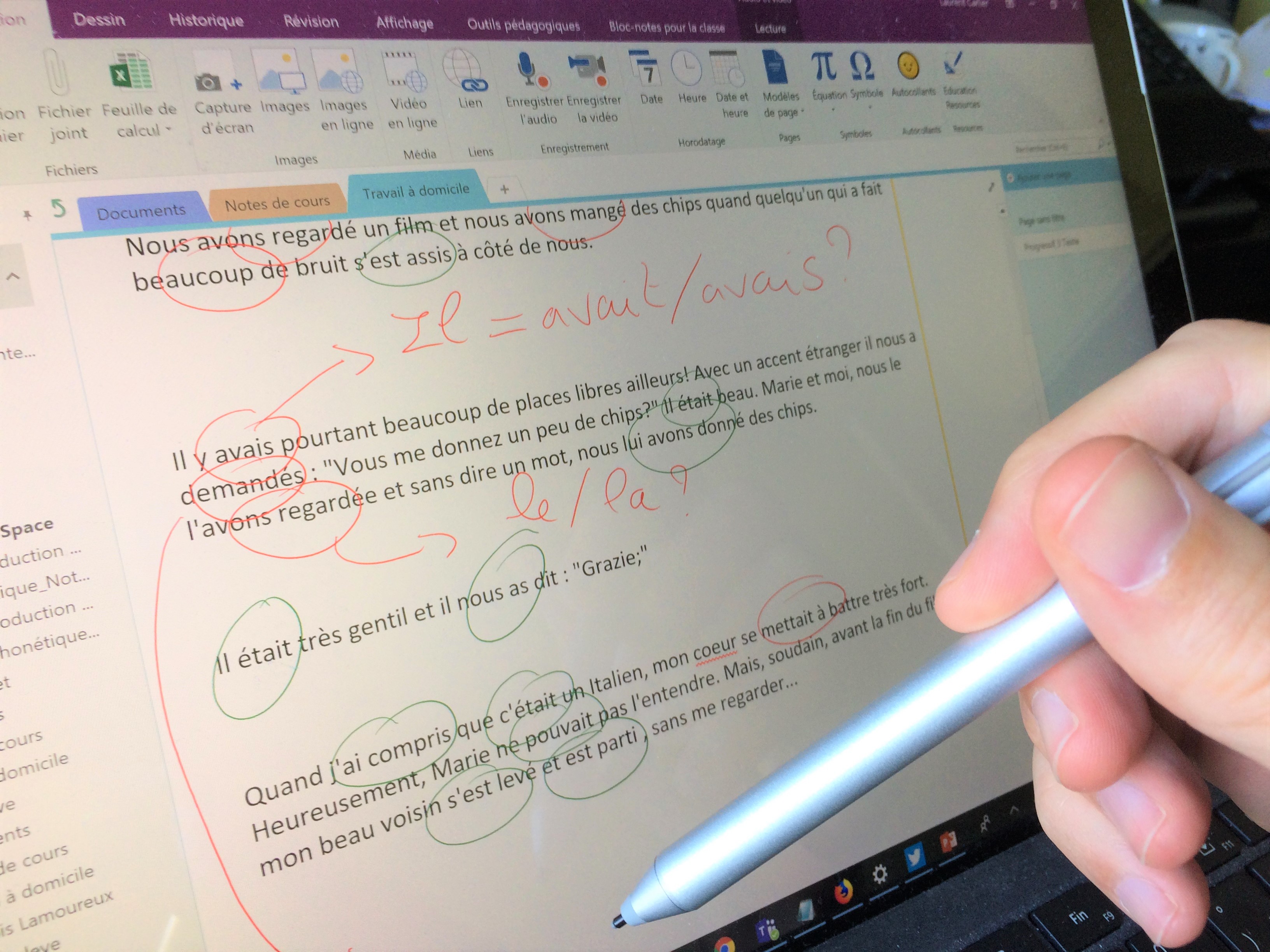 Final Thoughts
For education technology trainers and teachers seeking to transform their classrooms into modern interactive learning spaces, ScreenBeam is an affordable asset that makes it easy to share presentations and group projects—sparking engagement throughout the entire room. It's an essential tool that untethers trainers and teachers from projector cables. Unlike other wireless presentation tools, the beauty of ScreenBeam is that it does not require Wi-Fi on Windows 8.1/10 and Android devices. Instead, it uses a wireless technology called Miracast.
Try a ScreenBeam, and you will not part with it anymore.
About Laurent Carlier
Laurent Carlier is a former French teacher with over 12 years teaching at various schools and universities in Japan and France. Laurent is a fervent advocate of 21st century skills in education and loves to inspire educators to use technology in innovative ways. As an educational technology consultant and trainer, he is currently freelancing and conducting professional development workshops, presentations and keynotes both nationally and internationally for educational institutions. Since 2014, Laurent has trained over 500 teachers, approached 100 schools, and visited 10 countries.