What is a document camera?
Document cameras have been a popular classroom tool for many years because they've made it easy for teachers to share work and objects with the entire class. A document camera is basically a small camera mounted on a stand which is connected to a display or projector. In many ways document cameras have replaced overhead projectors, eliminating the limitations of transparent film and enabling any object or document to be placed in sight of the camera, saving time and creating more interaction.
Depending on the features you need, expect to pay between $150 to $600 per unit.
What is wireless display?
Wireless display is an innovative edtech tool that provides teachers the flexibility to move freely around the classroom while projecting lessons directly from their device to the classroom display.  Wireless display cuts the cord between the teacher device and the classroom display and replaces with wireless connectivity. By eliminating cables, teachers are now agile, making it easier to interact with students and provide individual attention without interrupting the lesson.
ScreenBeam 960 wireless receivers support Windows 10, 8.1, Android 4.2 (and higher) and MacOS devices. The cost is $299 per unit. Learn more.
Which is the better long-term investment?
Document cameras are a single application tool. Granted, there are many ways to use a document camera in the classroom, but it's really just a more flexible version of an overhead projector. Whereas, mirroring content is a very minor part of what ScreenBeam wireless display can do. When you can stop teaching with your back to the students, the potential for changing the way teaching and learning happens are nearly limitless.  Teachers who adopt wireless display use it all day, every day. Below are just three examples of actionable ways teachers can amplify the value of this basic but innovative feature.
Instant, mobile document camera. 
There was a reason for the title of this blog. Today's teachers are generally equipped with laptops or tablets with built-in cameras. In today's modern classroom, teachers can accomplish the same function of a document camera with their mobile device. ScreenBeam turns the Webcam feature in your mobile device into an instant, mobile document camera!
One teacher shared an experience that involved separating the classroom into several groups of students collaborating on Makerspace projects. Before ScreenBeam, presenting proje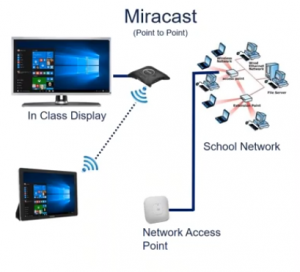 cts in the classroom required all the other groups to leave their workspace and huddle around the presenting group. Not only was this disruptive, but many students couldn't get close enough to get a clear view.
Since adopting ScreenBeam, the teacher simply uses the Webcam feature in her mobile device to stream the group's project from their desk or workspace to the classroom display. Teachers also use their device camera to snap and display an image, then using their digital pen or stylus to annotate, instantly create referenceable material for study time and better engagement.
Because ScreenBeam wireless display does not require the school's network to connect, using Miracast point-to-point technology to create a direct connection between the device and display, the classroom viewing experience is exceptional with no nagging buffering. Best of all it's a native feature in many of today's modern devices.
Power of Instant Feedback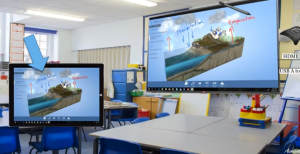 We all recognize the power of instant feedback as a driving influence on learning and achievement. When a teacher can provide immediate corrective information, or ask a student to clarify their proposal, students gain the opportunity to evaluate and adjust instantly.
ScreenBeam works seamlessly with touch-enabled display devices while OneNote and Windows 10 are popular with teachers.  In combination with ScreenBeam, those teachers have the ability to annotate student work directly from the classroom touch display because ScreenBeam receivers support UIBC wireless touchback native in Windows 10. Simply plug the USB cord into the ScreenBeam receiver instead of the teacher device, and the rest happens wirelessly.
Now when a student displays their presentation from their desk onto the classroom display, the teacher's annotations are instantly captured and saved in the program the student used. It's not even required for the student device to be natively touch-enabled.
 Achieve student-led learning
Anyone tends to grow more comfortable with a topic after teaching others about it. In teaching, the mind is actively and profoundly engaged. Teachers have been using student-led learning in their classrooms for years. Most adults will recall making a presentation or two as students. But 21st-century education has brought student-led learning to the next level with wireless presentation systems and mirroring devices.
Whether your classroom is one-to-one (where each student is provided a device) or only the teacher has a mobile device, student-led learning can be easily achieved with wireless display. Often we hear from teachers that they simply "hand-off" their mobile device to a student to "take over" the lesson. Not only does this allow students to take the teacher role, but it also gives teachers the freedom to sit with a student that needs extra attention, without any interruption to the lesson flow.
Our blog library has more information on all these examples. Or if you're ready to try out ScreenBeam, we can help with that. Please contact us.